Autel Maxisys MS908 Automotive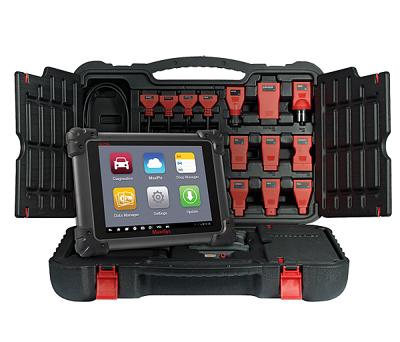 Mar 11, 2017
June 6, 2017
Check it on Amazon NOW!
The MaxiSys designed with the DNA of Autel's diagnostics family, the MaxiSys is built to offer many of the prestigious qualities of the MaxiDAS DS708 with extreme ease of use and powerful diagnostic performance. However the MaxiSys has evolved far beyond the original capabilities.
The MaxiSys designed with the DNA of Autel's diagnostics family, the MaxiSys is built to offer many of the prestigious qualities of the MaxiDAS DS708 with extreme ease of use and powerful diagnostic performance. However the MaxiSys has evolved far beyond the original capabilities. Utilizing an A9 quad-core 1.40GHz processor that offers 50% increase in speed versus competing products, a 9.7" LED screen with a resolution of 1,024 x 768 capacitive touch screen, the revolutionary multitask-capable Android Operating System, combined with the best possible coverage of OE-level diagnostics, the MaxiSys is the perfect diagnostic solution for shops and technicians who demand unrivalled smart technology and smart repairs.
Autel MaxiSys MS908P Features :
Unrivalled Speed
MaxiSys is the fastest scanner ever in the market. It features an extraordinarily fast A9 quad-core processor, a 32G solid state hard drive and a highly sensitive 9.7″LED capacitive touch screen. The revolutionary open source Android °pearling System allows you perform multiple tasks easily and intuitively. The system boots up in only 20 seconds, which is 5 times faster than competion products, and the diagnostic time for some vehicles is greatly reduced, allowing you to perform your job much quicker.
Smart Technology
Featuring the latest AutoVIN technology to identify CAN vehicles in one touch, and combined with the exclusive AutoScan function, the MaxiSys is the most intelligent system in the industry. These functions allow the technicians to easily detect vehicles, scan all the diagnosable ECUs on every vehicle and run diagnostics on selected systems. Another advanced feature, the industry first colud-based online community, puts you in touch with the latest tips and expertise from technicians around the world.
Ultrafast Wireless
The MaxiSys features advanced dual-band(2.4GHz and 5GHz)802.11n Wi-Fi that's up to twice as fast as any previous-generation diagnostic systems. The MaxiSys Vehicle Communication Interface(VCI) connects via dependable Long-Range Class 1 Bluetooth to the host tablet. Once the wireless VCI is connected to the car, the technician is completely free to move around anywhere in the shop. Its wireless connectivity also means you can field updates to the latest software releases, allowing for update anywhere and anytime.
Exceptional OE-Level Coverage
As the fastest growing diagnostic company in the world,Autel has been committed to providing the best and easiest-to-use diagnostic solution with the most extensive coverage of all systems for all the major vehicle manufacturers. This enables independent garages to confidently provide comprehensive servicing in their own workshops without relying on dealer availability. Continual software enhancement will provide additional vehicle coverage.
ECU Coding and Programming
The Coding function is used to configure the vehicle control modules(ECUs) with extra parameters, while Programming is used to reflash the vehicle ECUs. These functions allow you to update the computer software on the vehicle to the latest version, as well as to reprogram adaptive data for certain components after making repairs or replacements. MaxiSys is one of the very few diagnostic systems in the world with the capability of preforming safe and reliable coding and flash programming with affordable costs.
J2534 Reprogramming Capability
The VCI for MaxiSys PRO is a SAE J2534-1 &-2 Compliant Programming Interface. Using the updated OEM software, It is capable of replacing the existing software/firmware in electronic control units(ECUs), programming new ECUs and fixing software-controlled driveability issues and emission issues. Fully compatible with both SAE J2534-1 and J2534-2 reprogramming standards Performs the standard Passthru J2534 functionality Fast performance ensures quick reprogramming of even the newest controllers *Requirements: Both a pc and OEM Data subscription are required. Neither is included in this kit.
The Review
Neil Rowland, owner of AZ Mobile Reflash and Troubleshooting in Mesa, Ariz., and Don Smith, owner of Elite Electronics** based out of the Dallas/Ft. Worth area of Texas, reviewed the Autel MaxiSYS MS908. Both reviewers liked the quick processor speed and boot-up time that this scan tool offers. "It doesn't seem to make a difference what model of car I hook it up to," Rowland adds, "It's the fastest (scan) tool I've ever used."
Smith says, "The MaxiSYS (MS908) saves us time on every job we use it on with its quick boot-up time, ability to look at live data and ability to use bi-directional controls while not being bound by a cord."
The MaxiSYS MS908 included the manual, which was loaded onto a CD. Both reviewers say that because the product is easy to use, there is little need for the manual. This scan tool also included 12V and 120V chargers, a USB cable, non-OBD adapters, a strap/handle and a screen cleaning cloth.
According to both reviewers, the MS908 is easy to use. Even right out of the box, minimal setup was involved. Once the scan tool arrived in the shop, Smith says he only needed to register the device on Autel's website in order to perform updates. "If you choose to not update it, you can use it out of the box within five minutes."
Rowland says, "Autel is really good about updating their tools. It's a tool that you need to check for updates like once a week, because as soon as Autel comes up with solutions, they put them on the internet for you." Rowland also likes that the updates can be made through the tool, without having to hook it up to a computer, as the tool is fully Wi-Fi capable. He adds, "I've updated mine on the road. It saves me a ton of time."
Rowland has used the MS908 for many advanced functions, which include performing diagnostics and resets on many vehicle makes and models and even programming keys. He says, "I've used a lot of OE scan tools. Autel lays out data the same way OE scan tools are laid out." Because Rowland is familiar with this setup logic, he also said that if technicians are not familiar with a factory menu layout, this may be difficult for some users.
Smith used the MS908 to program keys on several vehicle makes including Ford, Dodge, Nissan and VW. He has also used this tool to diagnose a faulty PCM in a 2010 Dodge Ram and faulty headlight modules on 11 5 Series BMWs. After replacing the new module, it had to be coded and he also had to run reference for the adaptive headlights. He says, "The MaxiSYS performed flawlessly."
When asked to compare this scan tool to previous versions, both reviewers said that they have used the MS708. According to the reviewers, the MS908 offers improved processor and printing speed and boot time, and the MS908 has offered the reviewers up to eight hours of run-time without the need for a charge. Rowland said that the new Android functions are "plusses," while Smith likes the improved functionality of the touchscreen.
"The speed of this tool is number one," says Rowland. "It is capable of doing a lot of factory resets, so I don't have to drag my laptop to the car. It's very light and fast. It makes my life a lot easier when it comes to that." He also says that other functions he likes is that this tool offers 100-percent access on the anti-theft security systems, it allows users to send reports via Wi-Fi to another computer, it comes pre-loaded with direct links to repair info (AllData, Identifix, Mitchell 1, iATN, etc.) and that it stores vehicle histories and complete customer history, which can be retrieved through VIN auto-identification.
Smith also likes the ability to remotely log in for support from Autel, or if he needs to assist one of his technicians. He also said that the tool's ability to auto-read the VIN and identify the vehicle, as well as keep a history of vehicles scanned, even after disconnecting from vehicles is one of the most beneficial functions this tool offers.
As a suggested improvement, Rowland would like to see added functionality for the pinion factor for Chrysler vehicles, to set speedometers. "Other than that, it's been fantastic."
Smith suggests an improvement for the search functionality on available updates. Because the MS908 includes available updates on all vehicle makes and models, including European vehicles not serviced in the U.S., he says, "It is kind of cumbersome to pick and choose the updates that you want. It would be nice to set a profile of vehicles that you work on, or a sort by vehicles that you need."
Both reviewers gave the Autel MaxiSYS MS908 high ratings. Rowland gave the tool a nine or 10 out of 10. In addition to the many things he liked about this scan tool, he adds that it is reasonably priced for technicians. Smith gave the Autel MaxiSYS MS908 a 10 "We love having a tool that we know will do almost anything we need it to do It is reliable and quick and easy to use." He also adds, "We have and use almost every factory and aftermarket scanner on the market. The MaxiSYS is our go-to scan tool."
**Elite Electronics provides mobile mechanical, programming, diagnostics, air bag, theft and vandalism repair for body shops and service shops. Elite Electronics has about 25 full-time employees in three states, with 22 of them being mobile technicians.